In Memory
Julie Myers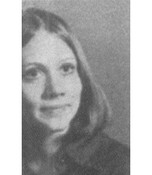 From Julie's obituary:
Myers, Julie D., 46, Wichita Police Dept. data entry employee, died Thursday, Sept. 21, 2000. Service 10:30 a.m. Tuesday, Old Mission Mortuary.
Mrs. Myers was born Oct. 27, 1953 to Donald Lee Myers and Mary Ethel Johnston.
Survivors: son, Matthew Shipman of Wichita; daughter and son-in-law, Mary and John Bouddhara of Fort Worth, Texas; sister, Lori McFerren of Langston; nephew, Paul Myers; nieces, Sara Myers, Cara Myers all of Wichita. Memorial has been established with Kansas Humane Society.
Cause of death: drug interaction, Benadryll and pain killers she had pancreatic problems