In Memory
(Hal) Chester Wilson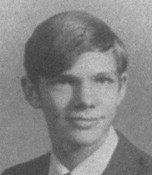 Deceased Classmate: Chester (Hal) Wilson
Date Of Birth: April-2-1953
Date Deceased: February-2010
Age at Death: 57
Cause of Death: Unknown
Classmate City: Nevada
Classmate State: MO
Classmate Country: USA
Was a Veteran: No
Survived By: Sister-Regina Rutter North High 1973 Son - Joshua Daughter - Hillary

Hal and I became strong friends in 1st grade at Riverside Elementary. We had some rough times through high school but got back together a year or so after graduation. I worked for his dad and mom until I left Wichita in 1981. We kept in touch, kind of, after that since I came back for visits infrequently and I last saw him in Wichita in 1993. He seemed angry and upset by life in general which I know had not gone the way he had wanted. Apparently he moved back to his father's home town in Nevada, Missouri in 1995 or 1996. I gather that no one was around when he died and that his last years were not happy. I can tell you that this was not what he had anticipated for himself when we were kids. I'm sad that's how things turned out.
Monty Fetterolf